Seat-Mounted Comfort
A more permanent solution to improve your seated comfort, the Seat Mounted Cushion includes all the features of our lightweight and compactable Portable Comfort Cushions with the added stability of seat attach fittings.
Take the most comfortable cushion out for a test drive today.
Seat Mounted Comfort Cushion
Regular price
Sale price
$79.99 USD
Unit price
per
COLOR: Available in Black Only.
Shipping & Refund Policy
 Simple, easy to use and portable seat cushion, 18" X 19" X 1" thick and weighs just 16 ounces. This cushion provides a superior level of comfort for users required to sit for extended periods of time.
Constructed with a center layer of a proprietary seating foam surrounded with two layers of engineered Spacer 3-D fabric that reduces to the high-pressure points against the seated body. These three layers are the surrounded by a durable exterior layer of 3-D Spacer fabric cover.

Includes two mounting straps with buckles, maximum mounted circumference is 67".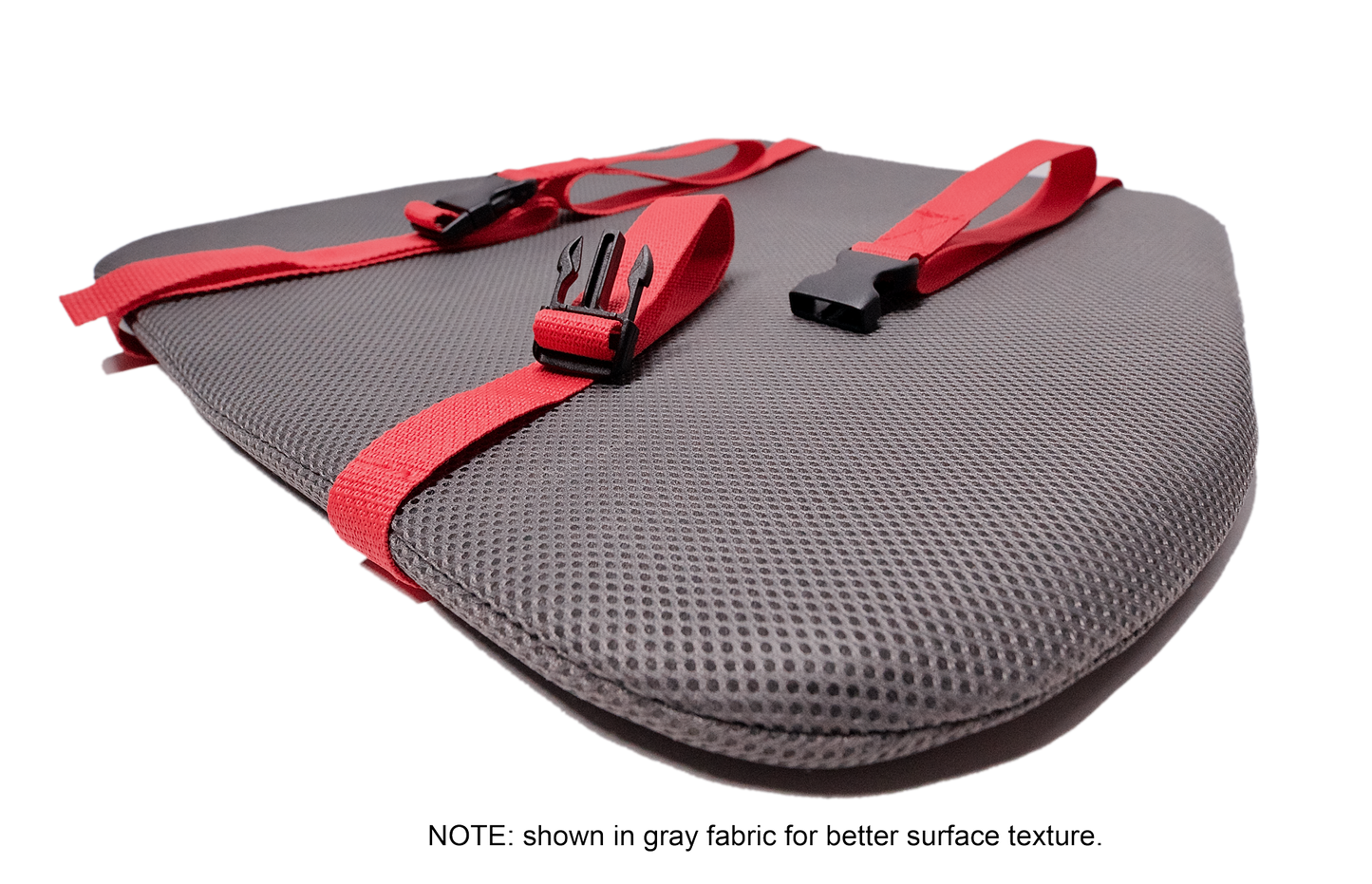 Shipping Information
We offer FREE standard shipping in the USA and Canada via USPS or Canada Post. Standard shipping times are approximately 2-7 days. Expedited UPS/FedEx shipping options are also available at additional cost, depending on service selected.
In Australia? Seats R Us is a Comfort Cushion authorized distributor.
Refund Policy
We guarantee our cushions. If within the first two weeks you are not satisfied with the level of comfort, please contact us and we'll send you a pre-paid return label for shipment. Upon inspection and confirmation that the cushion is in its original condition, we will gladly issue you a full refund.
Product Details
Our new design incorporates a cutout in the central layer of foam in the area of the Ischial Tuberosity bones. This reduces the pressure in the area surrounding the IT bones and significantly reduces the discomfort.
In developing this cushion, we have conducted over 200 body pressure mapping tests and no other combination of products have equaled the comfort levels achieved by this design.
The original protype of our cushion has withstood 16 months of use 5 days a week and is providing the original level of comfort without any sign of collapse. The cushion is 100% breathable and remains cool after many hours of use. The 1" thickness and low weight make this a truly portable cushion.
Should you feel that the cushion is not providing any benefit within the first 2 weeks, let us know. We will send you a return label and upon receiving it in its original condition, we will give a full refund on the purchase price. In over 12 months of sale of the original cushion design our return rate is just under 1% of our sales.